Discover more from Frank Beacham's Journal
Stories about music, culture, technology and history.
Woody Herman was born 110 years ago today.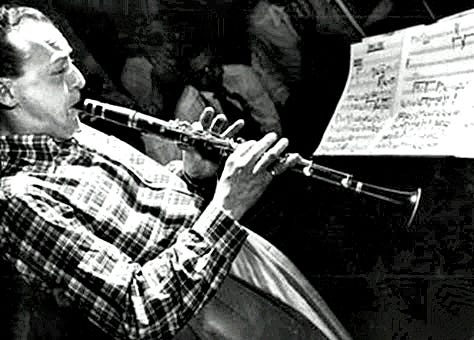 Woody Herman was born 110 years ago today.
A jazz clarinetist, alto and soprano saxophonist, singer and big band leader, Herman lead various groups called "The Herd." He was one of the most popular of the 1930s and '40s bandleaders — often playing music that was experimental for their time.
Born Woodrow Charles Thomas Herrman in Milwaukee, his father had a deep love for show business and this influenced Woody at an early age. As a child, he worked as a singer and tap dancer in Vaudeville, then started to play the clarinet and saxophone by age 12.
In 1931, he met Charlotte Neste, an aspiring actress. They married on September 27, 1936. Herman joined the Tom Gerun band and his first recorded vocals were "Lonesome Me" and "My Heart's At Ease."
Herman also performed with the Harry Sosnick orchestra, Gus Arnheim and Isham Jones. Jones wrote many popular songs, including "It Had To Be You" and at some point was tiring of the demands of leading a band. He wanted to live off the residuals of his songs. Herman saw the chance to lead his former band, and eventually acquired the remains of the orchestra after Jones' retirement.
Herman's first band became known for its orchestrations of the blues and was sometimes billed as "The Band That Plays The Blues." This band recorded for the Decca label, at first serving as a cover band, doing songs by other Decca artists.
After two and a half years on the label, the band had its first hit, "Woodchopper's Ball," recorded in 1939. Other hits for the band include "The Golden Wedding" and "Blue Prelude."
In jazz, swing was gradually being replaced by bebop. Dizzy Gillespie, a trumpeter and one of the originators of bop, wrote three arrangements for Herman, "Woody'n You," "Swing Shift" and "Down Under." These were arranged in 1942.
The fact that Herman commissioned Dizzy Gillespie to write arrangements for the band and that Herman hired Ralph Burns as a staff arranger, heralded a change in the style of music the band was playing. Herman's 1944 group, which he called the First Herd, was famous for its progressive jazz.
The First Herd's music was heavily influenced by Duke Ellington and Count Basie. Its lively, swinging arrangements — combining bop themes with swing rhythm parts — were greatly admired. In 1946, the band won Down Beat, Metronome, Billboard and Esquire polls for best band, nominated by their peers in the big band business.
Along with the high acclaim for their jazz and blues performances, classical composer Igor Stravinsky wrote the Ebony Concerto, one in a series of compositions commissioned by Woody with solo clarinet, for this band.
Woody Herman recorded this work in the Belock Recording Studio at Bayside, New York. He continued to perform into the 1980s, after the death of his wife and with his own health in decline, chiefly to pay back taxes caused by his business manager's bookkeeping in the 1960s.
As a result, Woody Herman owed the IRS millions of dollars and was in danger of eviction from his home. With the added stress, Herman still kept performing.
Herman died in West Hollywood, CA in 1987 at age 74.
A documentary film, Woody Herman: Blue Flame — Portrait of a Jazz Legend, was released on DVD in late 2012 by award winning jazz documentary filmmaker Graham Carter, owner of Jazzed Media, to salute Herman and his 100th birthday.