Discover more from Frank Beacham's Journal
Stories about music, culture, technology and history.
Wavy Gravy is 87 years old today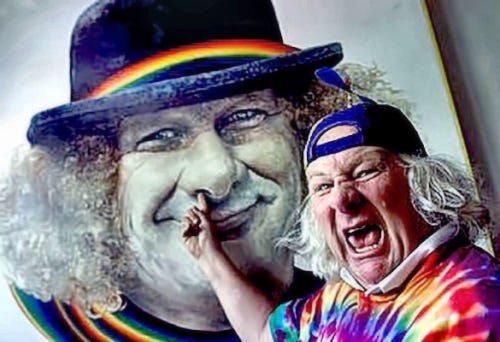 Wavy Gravy is 87 years old today.
Born as Hugh Romney, Gravy is an entertainer and activist for peace. He is best known for his clown appearance, personality and countercultural beliefs. His moniker was given to him by B.B. King at the Texas International Pop Festival in 1969.
"It's worked pretty well through my life," he said, "except with telephone operators – I have to say 'Gravy, first initial W.'"
Romney's clown persona resulted from his political activism. Frequently being arrested at demonstrations, he decided he would be less likely to be arrested if he dressed as a clown. "Clowns are safe," he said. He does, however, enjoy traditional clown activities such as jokes, magic tricks and entertaining children.
Romney founded and co-founded several organizations, including Camp Winnarainbow, the Seva Foundation and the Hog Farm, an activist commune.
He was also the official clown of the Grateful Dead.
A major film documentary on Wavy Gravy's life, Saint Misbehavin': The Wavy Gravy Movie, was released in late 2010 by Ripple Effect Films.
At the Woodstock Festival, Gravy and the Hog Farm collective accepted festival executive Stan Goldstein's offer to help with preparations. Gravy called his group the "Please Force," a reference to their non-intrusive tactics at keeping order, e.g., "Please don't do that, please do this instead."
When asked by the press — who were the first to inform him that he and the rest of the Hog Farm were handling security — what kind of tools he intended to use to maintain order at the event, his response was "Cream pies and seltzer bottles" (both being traditional clown props; he may have been referring to the silent film era Keystone Kops in particular).
In Gravy's words: "They all wrote it down and I thought, 'the power of manipulating the media', ah ha!"
Gravy has been the Master of Ceremonies, and the only person to appear on the bill of all three Woodstock Festivals. At the 1969 Texas International Pop Festival, Romney was lying onstage, exhausted after spending hours trying to get festival-goers to put their clothes back on, when it was announced that B.B. King was going to play.
Romney began to get up; a hand appeared on his shoulder. It was B.B. King, who asked, "Are you wavy gravy?" to which Romney replied "Yes." "It's OK; I can work around you," said B.B. King, and he and Johnny Winter proceeded to jam for hours after that. Romney said he considered this a mystical event, and assumed Wavy Gravy as his legal name.
Early on, Romney shared an apartment with singer-songwriter, Tom Paxton, in Greenwich Village, and Romney was one of Bob Dylan's earliest friends in New York City.
One of Bob Dylan's girlfriends from the University of Minnesota, Bonnie Beecher, now Jahanara Romney, became Gravy's wife in 1965. They have a son, Jordan Romney, born in 1971 as Howdy Do-Good Gravy Tomahawk Truckstop Romney.
Wavy Gravy, New York City, 2009, at the memorial for Odetta
Photo by Frank Beacham