Discover more from Frank Beacham's Journal
Stories about music, culture, technology and history.
Stevie Wonder is 73 years old today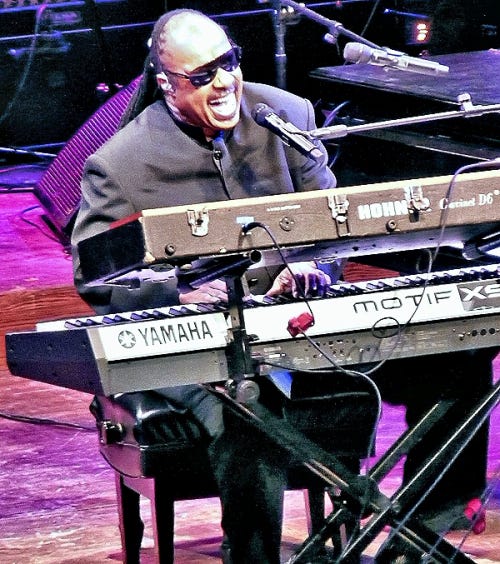 Stevie Wonder, New York City, 2010
Photo by Frank Beacham
In 1961, Berry Gordy signed 11-year-old Steveland Hardaway Morris to a contract with Tamla Records. The artist, later known as Stevie Wonder, and the label later known as Motown would grow up side by side over the course of the 1960s
During this period, Motown defined "the Sound of Young America" and Wonder helped lead the way with hits like "Fingertips (Pt. II)" (1963), "Uptight (Everything's Alright)" (1965), "I Was Made to Love Her"(1967), "My Cherie Amour" (1969) and "Signed, Sealed, Delivered I'm Yours" (1970).
But while he was busy turning out hits for Hitsville, Stevie Wonder was also developing into a mature musician with serious creative ambitions.
Faced with a rigid creative system at Motown, and resistance from Berry Gordy to loosening it, Wonder asserted control over his artistic future by exercising his right to leave Motown Records on his 21st birthday, May 13, 1971 — 53 years ago today.
The frustration for Stevie Wonder stemmed from the highly compartmentalized nature of the Motown production process. Motown in the 1960s was a hit factory, and in that factory the workers — songwriters, producers, instrumentalists and singers — all knew their respective roles.
It was one of the most creatively successful examples in history of the mass production of cultural products. But, by 1971, Wonder knew that he wanted to be an artisan rather than an assembly line worker.
Marvin Gaye had been the first Motown artist to test Berry Gordy's tolerance for dissent when he fought for, and won, total creative control over what is widely regarded as his masterpiece — "What's Going On."
When Gordy balked at allowing Wonder a similar level of artistic freedom, Stevie called his bluff by opting out of his contract and beginning production on his next album independently. Eventually, Berry Gordy relented, agreeing to a new contract that granted Stevie Wonder total creative control over his music and the rights to his own master recordings.
As it did for Marvin Gaye, this arrangement led to the period of Stevie Wonder's greatest critical and popular success. During the first five years of his new Motown contract, Wonder released five full-length albums — Music of My Mind (1972), Talking Book (1972), Innervisions (1973), Fulfillingness' First Finale (1974) and Songs in the Key of Life (1976).
From these albums came the vast majority of what most would consider to be Wonder's greatest hits, including "Superstition" (1971), "You Are The Sunshine Of My Life" (1973), "Higher Ground" (1973), "Livin' For The City" (1973), "You Haven't Done Nothin'" (1974), "I Wish" (1977) and "Sir Duke" (1977).
This period of incredible productivity and creative success began on this day in 1971, when Stevie Wonder came of age both legally and artistically.
Happy 73nd birthday, Stevie Wonder!
Thanks History.com
Here, Wonder performs "Signed, Sealed, Delivered" on the Dick Cavett Show