Sidney Bechet, jazz saxophonist, clarinetist and composer, was born 126 years ago today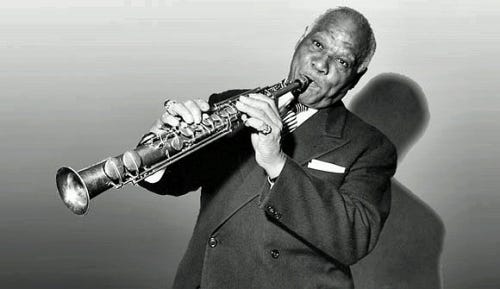 Sidney Bechet, jazz saxophonist, clarinetist and composer, was born 126 years ago today.
Bechet was one of the first important soloists in jazz (beating cornetist and trumpeter, Louis Armstrong, to the recording studio by several months and later playing duets with Armstrong). He was perhaps the first notable jazz saxophonist.
Forceful delivery, well-constructed improvisations and a distinctive, wide vibrato characterized Bechet's playing. His erratic temperament hampered his career, however, and not until the late 1940s did he earn wide acclaim.
Born in New Orleans in 1897 to a middle-class Creole family, Bechet's older brother, Leonard Bechet (1877–1952), was a part-time trombonist and bandleader.
Young Bechet quickly learned to play several musical instruments kept around his house, mostly by teaching himself. He soon decided to specialize in clarinet.
At the age of six, Bechet started playing along with his brother's band at a family birthday party, debuting his talents. Later in his youth, Bechet studied with such renowned Creole clarinetists as Lorenzo Tio, "Big Eye" Louis Nelson Delisle and George Baquet.
Soon after, Bechet began to play in many New Orleans ensembles, improvising with what was "acceptable" for jazz at that time (obbligatos, with scales and arpeggios and "variating" the melody). These ensembles included parade work with Henry Allen's celebrated Brass Band, the Olympia Orchestra and John Robichaux's "genteel" dance orchestra.
Although Bechet spent his childhood and adolescence in New Orleans from 1914 to 1917, he was now touring and traveling. He went as far north as Chicago and frequently teamed up with Freddie Keppard, another notable Creole musician. In the spring of 1919, Bechet traveled to New York, where he joined Will Marion Cook's Syncopated Orchestra.
Soon after, the orchestra journeyed to Europe where, almost immediately upon arrival, they performed at the Royal Philharmonic Hall in London. The group was warmly received. Bechet was especially popular, attracting attention.
While in London, Bechet discovered the straight soprano saxophone, and quickly developed a style quite unlike his warm, reedy clarinet tone. His saxophone sound could be described as "emotional," "reckless" and "large." He would often use a very broad vibrato, similar to what was common for some New Orleans clarinetists at the time.
Bechet died at age 63 in 1959.
The New York Times music writer, Robert Palmer, wrote of Bechet: "by combining the 'cry' of the blues players and the finesse of the Creoles into his own way, Sidney Bechet created a style which moved the emotions even as it dazzled the mind."
Duke Ellingston said "Bechet to me was the very epitome of jazz ... everything he played in his whole life was completely original. I honestly think he was the most unique man to ever be in this music."