Pet Sounds, a classic Beach Boys album, was released 57 years ago today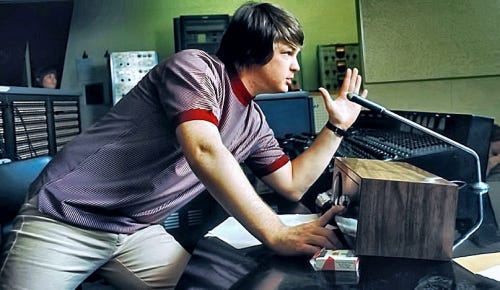 Brian Wilson at a recording session for Pet Sounds
Pet Sounds, a classic Beach Boys album, was released 57 years ago today.
Pet Sounds was is the 11th studio album by the band and met with a lukewarm critical and commercial response in the United States, peaking at #10 in the Billboard 200, a significantly lower placement than the band's preceding albums.
In the United Kingdom, the album was hailed by its music press and was an immediate commercial success, peaking at #2 in the UK Top 40 Albums Chart and remaining among the top ten positions for six months. The record garnered worldwide acclaim from critics and musicians alike, and is widely considered to be one of the most influential albums in music history.
The album was produced and arranged by Brian Wilson, who also wrote and composed almost all of its music. Most of the recording sessions were conducted between January and April, 1966, a year after he had quit touring with the Beach Boys in order to focus more attention on writing and recording.
Its musical direction ignited tensions within the group. Due to the album's personal, artistic nature, Pet Sounds is sometimes considered a Brian Wilson solo album, repeating the themes and ideas he had introduced with The Beach Boys Today! one year earlier.
The album's lead single, "Caroline, No," was issued as Wilson's official solo debut. It was followed by two singles credited to the group: "Wouldn't It Be Nice" (backed with "God Only Knows") and "Sloop John B". Collaborating with lyricist Tony Asher, Wilson's symphonic arrangements wove elaborate layers of vocal harmonies, coupled with sound effects and unusual instruments such as bicycle bells, buzzing organs, harpsichords, flutes, Electro-Theremin, trains, Hawaiian-sounding string instruments, Coca-Cola cans and barking dogs, along with the more usual keyboards and guitars.
Unified by Wall of Sound-style production techniques, the album comprised Wilson's "pet sounds," consisting mainly of introspective songs like "You Still Believe in Me", about faithfulness, "I Know There's an Answer," a critique of LSD users, and "I Just Wasn't Made for These Times," an autobiographical statement on social alienation (as well as the first use of a theremin-like instrument on a rock record).
Recording was completed on April 13, 1966 with an unprecedented total production cost that exceeded $70,000.
Pet Sounds is regarded by musicologists as an early concept album that advanced the field of music production through its introduction of non-standard harmonies and timbres, incorporating elements of pop, jazz, exotica, classical and the avant-garde. A heralding work of psychedelic rock, the album signaled an aesthetic trend within rock by transforming it from dance music into music that was made for listening to, elevating itself to the level of art rock.
In 2004, Pet Sounds was preserved in the National Recording Registry by the Library of Congress for being "culturally, historically or aesthetically significant."
Here, Brian Wilson performs "Caroline No" on the 1972-73 Beach Boys tour.