Discover more from Frank Beacham's Journal
Stories about music, culture, technology and history.
On this day — 30 years ago — folk singer Peter Seeger ended his long-running dispute with Burl Ives over the Black List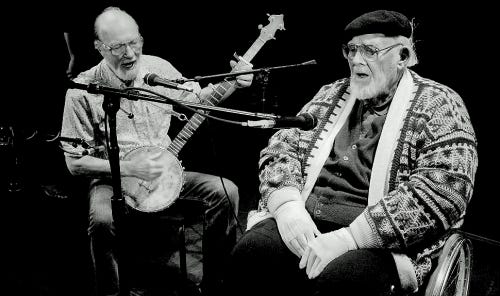 Burl Ives was identified in the infamous 1950 pamphlet, Red Channels, as an entertainer with supposed Communist ties.
In 1952, under considerable pressure, Ives cooperated with the House Un-American Activities Committee and named fellow folk singer, Pete Seeger, and others as possible Communists. Ives' cooperation with the HUAC ended his blacklisting, allowing him to continue with his movie acting.
It also led to a bitter rift between Ives and many folk singers, including Seeger, who felt that Ives had betrayed them and the cause of cultural and political freedom in order to save his own career.
Seeger was blacklisted from TV and movie work for 17 years. Ives went on to Broadway roles and Oscar-winning movie performances, not to mention stature as the face of American folk music until the emergence of Bob Dylan in the early 60s.
Seeger lashed back in a 1957 review of an album of sea shanties by Ives, in which he accused Ives of "fingering, like any common stool pigeon, some of his radical associates of the early '40s. He did this not because he wanted to, but because he felt it was the only way to preserve his lucrative contracts."
The review called Ives "gross, gargantuan, talented and clever" and "not quite intelligent enough to be honorable."
Forty-one years later on May 17, 1993 — 30 years ago today — the bitterness ended.
The then ailing Ives, 84, and Pete Seeger, 74, were reunited in a benefit concert in New York City. They sang "Blue Tail Fly" together. Following Ives' death in 1995, Seeger praised his tenor voice and the role it played in keeping so many important American songs alive.
Pressed to reopen the HUAC controversy, Seeger would only tell an NPR interviewer that on some matters "it's time to move on with your lives."
The benefit concert, called Folk Songs USA, was at New York's 92nd Street Y. Others on the bill included Oscar Brand, Theodore Bikel, Art Garfunkel, the Chad Mitchell Trio, Odetta, Tom Paxton, Paul Robeson Jr., Eric Weissberg and Josh White, Jr.
The performers watched in total surprise as Seeger mounted the stage to perform with Ives and bury the hatchet.
In the above photograph, Seeger and Ives perform together in 1993 after more than 40 years