New York City began its love affair with bicycling 204 years ago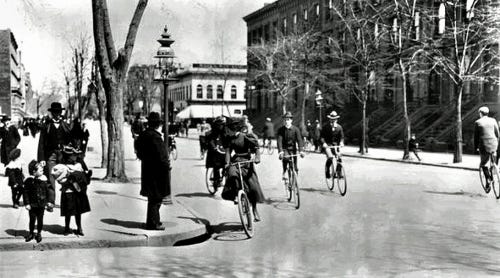 Bicycling at Fifth Avenue and 124th Street, 1897
Photo from Bettmann Archives
New York City began its love affair with bicycling 204 years ago.
The first bicycles — known then as "swift walkers," "velocipedes" or "dandy horses" — were introduced to New York City and the rest of America in 1819.
The early bikes had wooden frames, wooden wheels covered in leather and seats that allowed riders to dangle their legs on either side and push themselves along. It didn't take long for the city to regulate the new contraptions.
By August, 1819, the Common Council passed "a law to prevent the use of velocipedes in the public places and on the sidewalks of the City of New York."
The skirmish between the city and cyclists continues. A group of e-bike activists gathered this week at City Hall demanding that the city clarify laws surrounding pedal-assist bikes. They say the police use the laws to punish food delivery workers.
Thanks New York Times!