Liberace was born 104 years ago today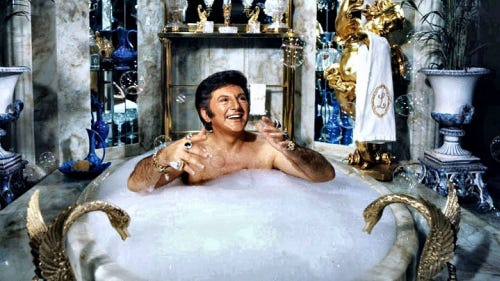 Liberace was born 104 years ago today.
A pianist and vocalist, Liberace was a child prodigy. The first generation son of working class immigrants, his career spanned four decades of concerts, recordings, motion pictures, television and endorsements.
At the height of his fame from 1950s to the 1970s, Liberace was the highest-paid entertainer in the world, with established residencies in Las Vegas and an international touring schedule. He embraced a lifestyle of flamboyant excess both on and off stage, and acquired the title, "Mr. Showmanship."
Throughout his career, Liberace publicly denied his gay sexual orientation, and successfully sued The Daily Mirror newspaper and Confidential, who reported some of his gay relationships, winning damages and legal fees. Towards the end of his life, his former chauffeur and lover, Scott Thorson, unsuccessfully sued him for palimony, slander and conversion of property.
Liberace also released a coffee table book of his life and performed 21 sold out shows at Radio City Music Hall, which set box office records a few months before his death in Palm Springs, California on February 4, 1987.
Liberace's death remains controversial due to the fact that there had been rumors prior to his passing that he had contracted HIV, which his management, publicist, friends and even Liberace himself had vehemently denied.
Ultimately the Riverside County coroner ordered an official autopsy against the wishes of his estate and determined that Liberace had died of an AIDS-related illness making him the second major celebrity after Rock Hudson to officially succumb to the illness during the early days of media frenzy surrounding the disease.
Worth over $110 million at his time of death, Liberace left the bulk of his estate to his scholarship foundation, but his official museum closed its doors in 2010 due to an economic downturn.
In November, 2013, a few dozen of his famous costumes and cars went on display for six-week exhibition at the Cosmopolitan Las Vegas, in an installation titled "Too Much of a Good Thing Is Wonderful"— Liberace's unofficial motto and an often used one liner from his act.
A highly acclaimed biographical film for HBO, Behind the Candelabra, achieved the highest ratings for an HBO TV film since 2004. Starring Michael Douglas as Liberace and directed by Steven Soderbergh, the film sparked renewed interest in Liberace's life and times.