Discover more from Frank Beacham's Journal
Stories about music, culture, technology and history.
Joseph Cotten was born 118 years ago today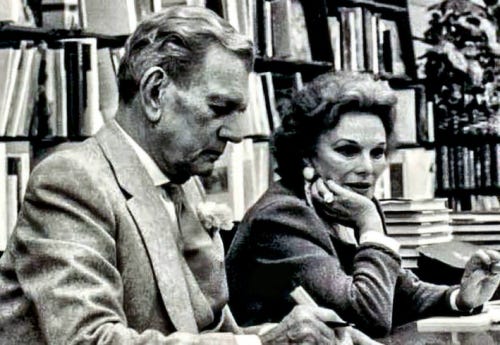 Joseph Cotten is shown here in 1987 during the production of "The Mercury Company Remembers," produced by Frank Beacham and Leonard Maltin.
Photo by Frank Beacham
Joseph Cotten was born 118 years ago today.
As an actor, Cotten achieved prominence on Broadway, starring in the original stage productions of The Philadelphia Story and Sabrina Fair. He first gained worldwide fame in the Orson Welles' films Citizen Kane (1941), The Magnificent Ambersons (1942) and Journey into Fear (1943), for which Cotten was also credited with the screenplay.
He went on to star in such popular films as Shadow of a Doubt (1943), Duel in the Sun (which remains one of the Top 100 highest grossing films of all time when adjusted for inflation), Love Letters (1945), Portrait of Jennie (1948) and The Third Man (1949).
Born in 1905 in Petersburg, Virginia, Cotton was the son of Joseph Cheshire Cotten, Sr., an assistant postmaster, and his wife, Sally Willson Cotten. His work as a theatre critic inspired him to become involved in theatre productions, first in Virginia, then in New York City.
In 1934, Cotten met and became friends with Orson Welles, a fellow cast member on CBS Radio's, The American School of the Air. Cotten had his first starring role in Welles's second production for the Federal Theatre Project — the farce Horse Eats Hat, adapted by Welles and Edwin Denby from Eugène Marin Labiche's play, Un Chapeau de Paille d'Italie. The play was presented from September 26 to December 5, 1936, at the Maxine Elliott Theatre, New York City.
In 1937, Cotten became an inaugural member of the Mercury Theatre company, led by Orson Welles. He starred in Broadway productions of Julius Caesar, The Shoemaker's Holiday and Danton's Death, and in radio dramas presented on The Mercury Theatre on the Air and The Campbell Playhouse.
Cotten made his film debut in the Welles-directed short, Too Much Johnson, a comedy that was intended to complement an aborted 1938 Mercury stage production of William Gillette's 1890 play. The film was never screened in public. In 2013, a print was discovered in Prodenone, Italy.
Cotten returned to Broadway in 1939, creating the role of C. K. Dexter Haven opposite Katharine Hepburn's Tracy Lord in the original production of Philip Barry's, The Philadelphia Story. The play ran for a year at the Shubert Theatre, and in the months before its extensive national tour a film version was to be made by MGM.
Cotten went to Hollywood, but discovered there that his stage success in The Philadelphia Story translated to, in the words of his agent Leland Hayward, "spending a solid year creating the Cary Grant role." Hayward suggested that they call Cotten's good pal, Orson Welles.
"He's been making big waves out here," Hayward said. "Maybe nobody in Hollywood ever heard of the Shubert Theatre in New York, but everybody certainly knows about the Mercury Theatre in New York."
After the success of Welles's War of the Worlds 1938 Halloween radio broadcast, Welles gained a unique contract with RKO Pictures. The two-picture deal promised full creative control for the young director below an agreed budget limit, and Welles's intention was to feature the Mercury Players in his productions.
Shooting had still not begun on a Welles film after a year, but after a meeting with writer Herman J. Mankiewicz, Welles had a suitable project. Filming soon began on Citizen Kane, portraying the life of a press magnate (played by Welles) who starts out as an idealist but eventually turns into a corrupt, lonely old man. The film featured Cotten prominently in the role of Kane's best friend, Jedediah Leland, eventually a drama critic for one of Kane's papers.
When released on May 1, 1941, Citizen Kane — based in part on the life of William Randolph Hearst — did not do much business at theaters. Hearst owned numerous major newspapers and forbade them to carry advertisements for the film. Nominated for nine Academy Awards in 1942, the film won only for Best Screenplay, for Mankiewicz and Welles.
Citizen Kane launched the film careers of the Mercury Players, including Agnes Moorehead (who played Kane's mother), Ruth Warrick (Kane's first wife) and Ray Collins (Kane's political opponent).
However, Cotten was the only one of the four to find major success as a lead in Hollywood outside of Citizen Kane. Moorehead and Collins became successful character film actors and Warrick spent decades in a career in daytime television.
Cotten starred a year later in Welles's adaptation and production of The Magnificent Ambersons. After the commercial disappointment of Citizen Kane, RKO was apprehensive about the new film, and after poor preview responses, cut it by nearly an hour before its release.
Though at points the film appeared disjointed, it was well received by critics. Despite the critical accolades Cotten received for his performance, he was again snubbed by the Academy.
Cotten and Welles (uncredited) wrote the Nazi-related thriller, Journey into Fear (1943), based on the novel by Eric Ambler. Released by RKO, the Mercury production was directed by Norman Foster. It was a collaborative effort due to the difficulties shooting the film and the pressures related to Welles's imminent departure to South America to begin work on It's All True.
After Welles's return, he and Cotten co-produced The Mercury Wonder Show for members of the U.S. armed services. Opening August 3, 1943, the all-star magic and variety show was presented in a tent at 9000 Cahuenga Boulevard in Hollywood.
Featured were Welles (Orson the Magnificent), Cotten (Jo-Jo the Great), Rita Hayworth (forced to quit by Columbia Pictures boss, Harry Cohn, and replaced by Marlene Dietrich), Agnes Moorehead (Calliope Aggie) and others. Tickets were free to servicemen and more than 48,000 of them had seen show by September, 1943.
On film, Cotten and Welles worked together in The Third Man (1949). Cotten portrays a writer of pulp fiction who travels to postwar Vienna to meet his friend Harry Lime (Welles). When he arrives, he discovers that Lime has died, and is determined to prove to the police that it was murder, but uncovers an even darker secret.
The characters that Cotten played onscreen during the 1940s ranged from a serial killer in Hitchcock's Shadow of a Doubt (1943, opposite Teresa Wright) to an eager police detective in Gaslight (1944, with Ingrid Bergman, Charles Boyer and Angela Lansbury in her film debut).
Cotten starred with Jennifer Jones in four films: the wartime domestic drama, Since You Went Away (1944); the romantic drama, Love Letters (1945); the western, Duel in the Sun (1946) and the critically acclaimed, Portrait of Jennie (1948), in which he played a melancholy artist who becomes obsessed with a girl who may have died many years before.
As well as reuniting onscreen with Orson Welles in Carol Reed's The Third Man in 1949, Cotten reunited with Hitchcock in Under Capricorn (1949) as an Australian landowner with a shady past. Exhibitors voted him the 17th most popular star in the U.S. in 1945.
On June 8, 1981, Cotten had a heart attack followed by a stroke that affected his speech center. He began years of therapy which in time made it possible for him to speak again.
As he began to recover, he and Orson Welles talked on the phone each week for a couple of hours: "He was strong and supportive," Cotten wrote, "and whenever I used the wrong word (which was frequently) he would say, 'That's a much better word, Jo, I'm going to use it.'"
He and Welles would meet for lunch and reminisce, and when Cotten said he had written a book, Welles asked for the manuscript and read it that same night.
In a phone conversation October 9, 1985, Welles told his friend and mentor, Roger Hill, that Cotten had written a book. Hill asked how it read. "Gentle, witty and self-effacing, just like Jo," Welles replied. "My only complaint is that it's too brief."
Welles died the following day.
"Somewhere among his possessions is a manuscript of this book," Cotten wrote on the last page of his autobiography, published in 1987 under the title, Vanity Will Get You Somewhere.
In 1990, Cotten's larynx was removed due to cancer. He died February 6, 1994, of pneumonia at the age of 88.
Here is a scene from 1942's The Magnificent Ambersons with Cotten about automobiles.