Discover more from Frank Beacham's Journal
Stories about music, culture, technology and history.
Henry Fonda was born 118 years ago today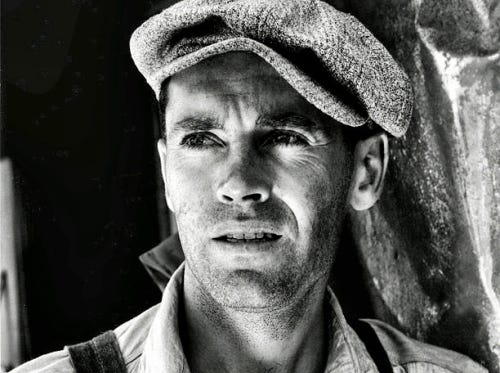 Henry Fonda in The Grapes of Wrath, 1940
Henry Fonda was born 118 years ago today.
A film and stage actor, Fonda began his career as a Broadway actor. He made his Hollywood debut in 1935, and his career gained momentum after his Academy Award-nominated performance as Tom Joad in The Grapes of Wrath, a 1940 adaptation of John Steinbeck's novel about an Oklahoma family who moved west during the Dust Bowl.
Throughout six decades in Hollywood, Fonda cultivated a strong, appealing screen image in such classics as The Ox-Bow Incident, Mister Roberts and 12 Angry Men.
Later, Fonda moved both toward darker epics as Sergio Leone's Once Upon a Time in the West and lighter roles in family comedies like Yours, Mine and Ours with Lucille Ball, winning the Academy Award for Best Actor at the 54th Academy Awards for On Golden Pond.
Fonda was the patriarch of a family of famous actors, including daughter Jane Fonda, son Peter Fonda, granddaughter Bridget Fonda and grandson Troy Garity. His family and close friends called him "Hank."