Discover more from Frank Beacham's Journal
Stories about music, culture, technology and history.
George Lucas is 79 years old today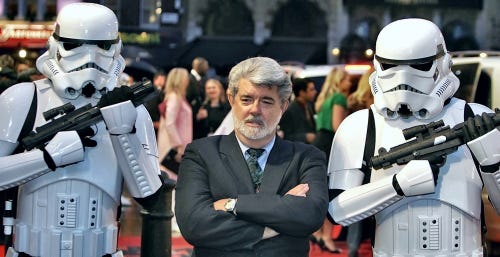 George Lucas is 79 years old today.
A film director, screenwriter, producer and entrepreneur, Lucas founded Lucasfilm and led the company as chairman and chief executive before selling it to The Walt Disney Company on October 30, 2012. He created the space opera franchise, Star Wars, and the archaeologist adventurer character, Indiana Jones.
Lucas is one of the American film industry's most financially successful filmmakers and has been nominated for four Academy Awards for directing and writing American Graffiti (1973) and Star Wars (1977).
In 2005, Lucas gave $1 million to help build the Martin Luther King, Jr. National Memorial on the National Mall in Washington D.C. to commemorate American civil rights leader, Martin Luther King, Jr.
On September 19, 2006, USC announced that George Lucas had donated $175–$180 million to his alma mater to expand the film school. It is the largest single donation to USC and the largest gift to a film school anywhere. Previous donations led to the already existing George Lucas Instructional Building and Marcia Lucas Post-Production building.
Lucas is a major collector of the American illustrator and painter, Norman Rockwell. A collection of 57 Rockwell paintings and drawings owned by Lucas and fellow Rockwell collector and film director, Steven Spielberg, were displayed at the Smithsonian American Art Museum from July 2, 2010 to January 2, 2011 in an exhibition titled, Telling Stories.