Eddy Arnold was born 105 years ago today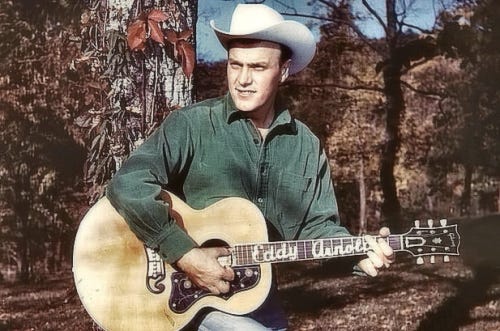 Eddy Arnold was born 105 years ago.
A country music singer who performed for six decades, Arnold was a so-called Nashville sound (country/popular music) innovator of the late 1950s. He scored 147 songs on the Billboard country music charts, second only to George Jones.
Arnold sold more than 85 million records. A member of the Grand Ole Opry (beginning 1943) and the Country Music Hall of Fame (beginning 1966), he co-wrote the country and pop standard, "You Don't Know Me."
Arnold died from natural causes on May 8, 2008 in a nursing home in Nashville, exactly one week before his 90th birthday.
On May 31, 2008, RCA released "To Life" as a single from the album, After All These Years. It debuted at #49 on the Hot Country Songs charts, Arnold's first entry in 25 years and the recording by the oldest person to chart in Billboard magazine.
It set the record for the longest span between a first chart single and a last: 62 years and 11 months ("Each Minute Seems Like a Million Years" debuted on June 30, 1945), and extended Arnold's career chart history to seven decades.