Discover more from Frank Beacham's Journal
Stories about music, culture, technology and history.
Dennis Hopper was born 87 years ago today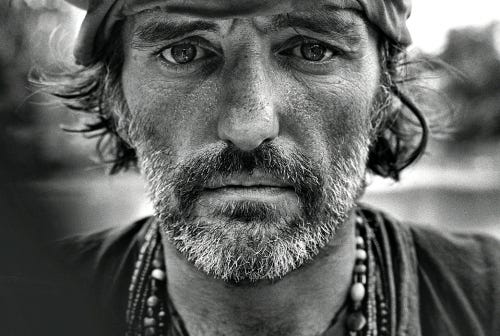 Dennis Hopper, Apocalypse Now, 1979
Photo by Mary Ellen Mark
Dennis Hopper was born 87 years ago today.
An actor, filmmaker, photographer and artist, as a young man Hopper became interested in acting and eventually became a student at the Actors Studio. He made his first television appearance in 1954, and appeared in two films featuring James Dean — Rebel Without a Cause (1955) and Giant (1956).
During the next ten years, Hopper appeared frequently on television in guest roles, and by the end of the 1960s had played supporting roles in several films. He directed and starred in Easy Rider (1969), winning an award at the Cannes Film Festival and was nominated for an Academy Award for Best Original Screenplay as co-writer.
Journalist Ann Hornaday wrote: "With its portrait of counterculture heroes raising their middle fingers to the uptight middle-class hypocrisies, Easy Rider became the cinematic symbol of the 1960s, a celluloid anthem to freedom, macho bravado and anti-establishment rebellion." Film critic Matthew Hays noted that "no other persona better signifies the lost idealism of the 1960s than that of Dennis Hopper."
Hopper was unable to build on his success for several years, until a featured role he played, that of the American photojournalist in Apocalypse Now (1979), brought him attention. He subsequently appeared in Rumble Fish (1983) and The Osterman Weekend (1983), and received critical recognition for his work in Blue Velvet and Hoosiers, with the latter film garnering him an Academy Award nomination for Best Supporting Actor.
He directed Colors (1988), played the eponymous lead character in Paris Trout, and played the villain in Speed (1994). He played another villain, King Koopa, in Super Mario Bros. (1993).
Hopper was also a prolific photographer, painter and sculptor. Ostracized by the Hollywood film studios due to his reputation for being a "difficult" actor, Hopper eventually turned to photography in the 1960s with a Nikon camera bought for him by his first wife, Brooke Hayward.
During this period, he created the cover art for the Ike & Tina Turner's "River Deep – Mountain High," released in 1966. He would become a prolific photographer, and noted writer Terry Southern profiled Hopper in Better Homes and Gardens magazine as an up-and-coming photographer "to watch" in the mid-1960s. Hopper's early photography is known for portraits from the 1960s, and he began shooting portraits for Vogue and other magazines.
On October 29, 2009, Hopper's manager reported that he had been diagnosed with advanced prostate cancer. In January, 2010, it was reported that Hopper's cancer had metastasized to his bones. By March 23, 2010, Hopper reportedly weighed only 100 pounds and was unable to carry on long conversations. He was terminally ill and was unable to undergo chemotherapy to treat his prostate cancer.
Hopper died at his home in the coastal Los Angeles district of Venice on the morning of May 29, 2010. It was 12 days after his 74th birthday.
Here's the trailer for Easy Rider, directed by Hopper in 1969
Dennis Hopper in Easy Rider, a 1969 American road movie written by Hopper, Peter Fonda and Terry Southern and directed by Hopper.