Discover more from Frank Beacham's Journal
Stories about music, culture, technology and history.
Cate Blanchett is 54 years old today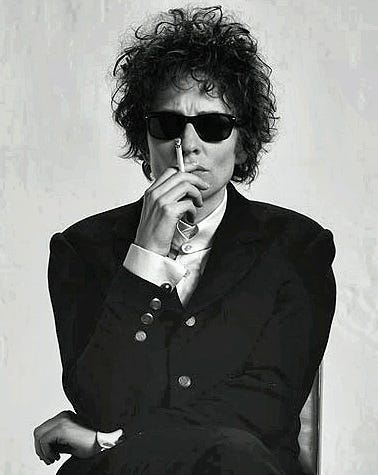 Cate Blanchett as Bob Dylan in the 2007 film, I'm Not There
Cate Blanchett is 54 years old today.
An Australian actress of screen and stage, Blanchett has received critical acclaim and many accolades throughout her career, including two Academy Awards. She came to international attention for her role as Elizabeth I of England in the 1998 film, Elizabeth.
Her portrayal of Katharine Hepburn in Martin Scorsese's 2004 film, The Aviator, brought her critical acclaim and various accolades, including an Academy Award for Best Actress in a Supporting Role.
In 2013, she starred in Woody Allen's Blue Jasmine, for which she won an Academy Award for Best Actress in a Leading Role. She is one of only six actresses to win Oscars for both Best Actress and Best Supporting Actress and the only Australian actor to win two Academy Awards.
Blanchett's other notable films include Peter Jackson's The Lord of the Rings trilogy (2001-03), Elizabeth: The Golden Age, Veronica Guerin (2003), Babel (2006), Notes on a Scandal (2006), I'm Not There (2007), Indiana Jones and the Kingdom of the Crystal Skull (2008) and The Curious Case of Benjamin Button (2008).