Discover more from Frank Beacham's Journal
Stories about music, culture, technology and history.
Bobby Darin was born 87 years ago today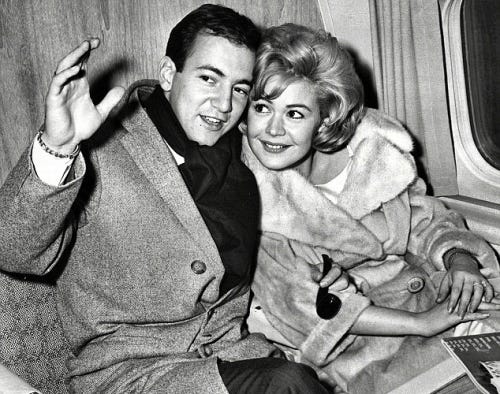 Bobby Darin and his wife, Sandra Dee
Bobby Darin was born 87 years ago today.
A singer, songwriter and actor of film and television, Darin performed in a range of music genres, including pop, rock, jazz, folk and country. His knack for keeping people guessing first showed itself in his shift from rock-and-roll teen idol to finger-snapping Vegas headliner.
However, his tendency to move in and out and back and forth among diverse musical genres also took him through phases as a writer-performer of protest-folk, folk-rock and even country music.
One of the most versatile pop stars of his generation, Darin started as a songwriter for Connie Francis, and recorded his own first million-seller, "Splish Splash," in 1958. This was followed by "Dream Lover," "Mack the Knife" and "Beyond the Sea," which brought him fame.
In 1962, he won a Golden Globe for his first film, Come September, co-starring his first wife, Sandra Dee (married 1960–1967).
Throughout the 1960s, he became more politically active and worked on Robert Kennedy's Democratic presidential campaign. He was present on June 6, 1968 at the Ambassador Hotel in Los Angeles on the evening of Kennedy's assassination.
The same year, he discovered that he had been brought up by his grandparents, not his parents, and that the girl he thought was his sister was actually his mother. These events deeply affected Darin and sent him into a long period of seclusion.
Although he made a successful television comeback, his health was beginning to fail, as he had always expected, following bouts of rheumatic fever in childhood. This knowledge of his vulnerability had always spurred him on to exploit his musical talent while still young.
He died at age 37 in 1973, following a heart operation in Los Angeles.